Lovely Rita
Now Playing: John 15:5 (KJV)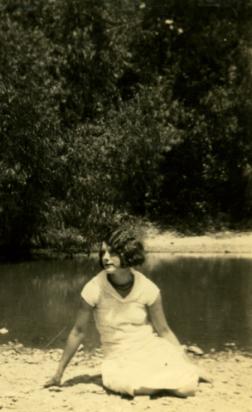 This is a picture of my Grandma, taken when she was 23 years old. I've cropped it sorta goofily, but it's something to share, anyway, because today would have been her 98th birthday.
Her name was Rita. Everyone pronounced it "RYE-duh," but I think she probably preferred it to be pronounced the usual way.
I don't think she got past the seventh grade, but she was a perfectly literate woman who loved to do her crossword puzzles. She would fold up that page of the newspaper and sit with me on the front porch of her house and go to work on it with a ratty old dictionary in her lap as a writing surface. And she always did it with a blue ball-point pen.
My Grandma was a little lady, but very tough and sometimes stern. She was hard-working, religious, and full of fire. She once told me that she was born at the age of 17 so that she could help with the war effort. The Great War, that is. I guess the weirdness of that claim was enough to stick in my memory even to this day. But I think I know now what she meant: she was an old soul who had to become an adult before her time. Grandma was always on the job.
I learned a lot from my Grandma. A love of History, especially our family's history. Prudence and frugality. Storytelling and, I have to say, a strong sense of mortality: she raised me to believe in the Last Judgement and the Resurrection of the Dead, you can be sure.
In the years since she passed away, though, I have reconceived what it means to resurrect the dead. It now means to me that those who have gone before must be remembered and honored. They must be
survived
. Which is what I am doing with these words.
When my Grandma posed for this picture 75 years ago, she wasn't yet married and didn't have three children or nine grandchildren or six great-grandchildren. She hadn't even lived a third of her life yet. And she would never have guessed that one of her grandsons would someday take this picture, scan it into a computer, and share it with the entire world.
I am the vine, ye are the branches: He that abideth in me, and I in him, the same bringeth forth much fruit: for without me ye can do nothing.