This Death Hurts Me Even More Deeply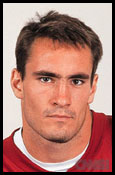 I was deeply saddened to learn of Pat Tillman's death earlier this morning. I just can't believe it. Tillman is a true American hero and it hurts me to have to write these words. He was killed in combat yesterday, fighting against Islamofascist terrorists in Afghanistan.
He was 27.
Tillman gave up a lucrative career in the National Football League with the Arizona Cardinals. He was a kick-ass athlete, but he gave it all up to join the Army and be a Ranger with his kid brother, Kevin.
No fanfare, no publicity. Tillman was all about volunteering to serve his country in combat because of how he felt in the aftermath of the atrocities of 11 September 2001.
As many have already remarked, the stadium at Arizona State University must be renamed in his honor immediately. Tillman must receive the honors due to a man of his character.
I'm just too hurt by this.