Gotta Sell It, George!
As I have often remarked, one of the great failures of this Administration is its incompetence at selling the war on a more consistent basis. There has obviously been plenty of good rhetoric in the conventional sense of formal addresses and the occasional sale Bush will make in an impromptu setting, but there simply hasn't been the kind of concerted effort to reinforce our rationale.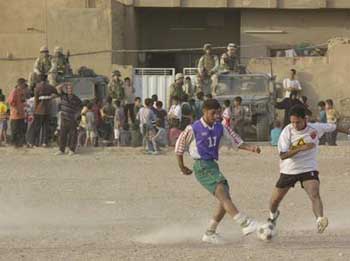 And I'm not just talking about quantity, but quality: when was the last time you saw someone in the Administration really sell the American public on the importance and novelty of an Iraqi free press and Iraqi democracy on the local level and even things like the Iraqi soccer team, which is going to the Olympics later this summer? These things are huge, but Bush is being just plain
timid
in stressing their value. You gotta sell it, George! Don't assume that Americans know these things because you do; you gotta pound it into our skulls.
And remind the Asshole Left that this war is being fought in the defense of the very same liberties that they themselves should be supporting throughout the world if they weren't so obsessed with undermining you.
(Photo credit: Mikhail Metzel of the Associated Press)