John Payne Collier
Before the world of current events led me astray, one of my favorite intellectual pursuits was researching and arguing the Shakespeare Authorship Question. (In case you didn't know it, there are a
lot
of very sound reasons to doubt that the man the world knows as William Shakespeare was the actual Author of those famous plays and poems. And if you think the partisanship you find in the blogosphere these days is full of vitriol and contention, well...you just have no idea. Shakespearean scholars make political pundits and bloggers look like a bunch of stoners comparing their favorite bands.)
One of the saddest and most interesting characters in all of Shakespearean scholarship is John Payne Collier (1789-1883), founder of the Shakespeare Society and one of the most renowned scholars of his day. He was a well-respected authority on matters Shakespearean, but was always dogged by an inferiority complex. In 19th Century England, class and reputation loomed far larger than what we modern egalitarians can appreciate. And Collier, for whatever reason, found himself on the outside looking in. And, so, in secret, he began acting on his ambitions to be accepted as the greatest name in all of Shakespearean scholarship.
Around 1852, Collier came forth with what was one of the holiest grails in all of Shakespeareana: a heavily-annotated and emended copy of Shakespeare's Second Folio (1632). The scholarly world was absolutely abuzz about this fantastic discovery. At long last, they were faced with the possibility that these annotations were made by a contemporary of Shakespeare's who may have been working from the original manuscripts of the Bard himself. (This was exciting, I would have you know, because not a single scrap of any literary manuscript or letter had ever ---or
has
ever--- been found in Shakespeare's own hand.)
In a very short while, though, an obscure little man named Andrew Edmund Brae began to question whether Collier's great discovery was on the up and up. Brae self-published a pamphlet called
Literary Cookery
which cast doubt upon Collier's honesty. Naturally, Collier was incensed and sued Brae for defamation.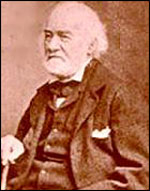 But once this happened ---once Collier deigned to have "a conversation with the professional rumor mill"--- the cat was out of the bag. Soon, everybody wanted in on the action. Ingleby, Halliwell, Madden ---all of the great authorities of the age were ripping into him. Was Collier telling the truth about
anything
? Did
he himself
make those annotations and emendations? It had scarcely seemed possible that so reputable a man as Collier would do anything to jeopardize his life's passion.
But he had. John Payne Collier was, in fact, the creator and verifier of his own forgery. And no matter what other great things he had accomplished in his career as a Shakespearean scholar, his legacy was fixed in shame.