It's Still Sweeps Week, Right?
Mood:
suave
Now Playing: "Don't Stand So Close to Me" by the Police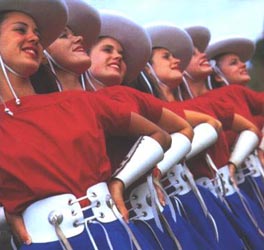 I am firmly ---indeed, throbbingly--- opposed to this stupid proposed
ban
on sexually suggestive dancing by high school cheerleaders and drill team members here in Texas. It is my God-given right as a mammal and a taxpayer to ogle young women half my age as they gyrate in whatever miraculous fashion they so desire.
(Thanks to
this
website for the lovely picture of the Kilgore Rangerettes.)