Tado and Toby
Mood:
celebratory
Today would have been my PawPaw's 96th birthday.
Theodore Gustav Petzold was born in Leroy, Texas on 24 April 1909, the seventh son born to Heinrich Otto and Amilie Augusta (Rackow) Petzold. Everyone knew him as Tado (pronounced TAY-doh).
My PawPaw was a very gentle man who loved nature and loved his family. I don't think he made it past the third grade and probably couldn't do much more than write his own name. But he was the salt of the earth. Tado could grow anything in his garden and in the fields where he and his family were sharecroppers. I especially remember his okra, which he loved to fry up in one of those big iron skillets.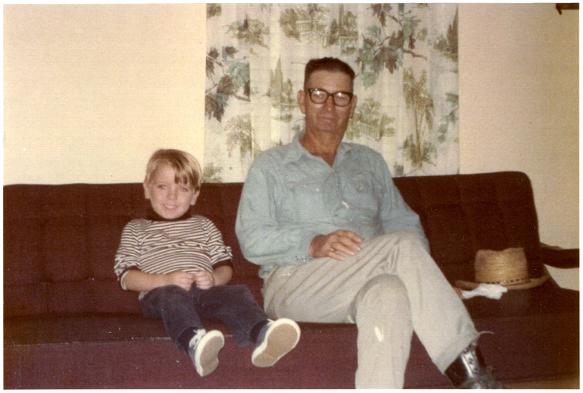 PawPaw could tell you the time of day by where the Sun stood in the sky ---and usually down to the minute. He was a good shot, too. My most vivid memory of my PawPaw is of him pointing out a squirrel in a pecan tree in his front yard. We were sitting on the ledge of the front porch when he asked, "You see that squirrel, Tobe-ope?" I guess I did because the next thing I knew, he was raising up his old Remington .22 and dropping that squirrel with one shot. He then proceeded to skin it and got Grandma to cook it up for us.
Tado Petzold would be a pretty hip dresser even today. It was usually denim and workboots or khakis and long-sleeve cotton shirts. He always had a good head of hair and plenty of stubble. In fact, there was a plant of some kind out on the side of the house that I would call PawPaw's "whisker tree" because it reminded me of his beard.
PawPaw died when I was only four, but I have in mind many images and impressions. He was well-loved throughout the Valley Mills community ---and his funeral was attended by hundreds.
And, so, today, I wanted to tell you a little bit about the man to whom I owe my good name.