Bravery, Thy Name Is Woman
Mood:
special
Now Playing:
the 96th thesis
I listened to a clip of this woman a couple weeks ago and am pleased to see that her profile is
rising
in the world. From the
New York Times
:
LOS ANGELES, March 10 — Three weeks ago, Dr. Wafa Sultan was a largely unknown Syrian-American psychiatrist living outside Los Angeles, nursing a deep anger and despair about her fellow Muslims.

Today, thanks to an unusually blunt and provocative interview on Al Jazeera television on Feb. 21, she is an international sensation, hailed as a fresh voice of reason by some, and by others as a heretic and infidel who deserves to die.

In the interview, which has been viewed on the Internet more than a million times and has reached the e-mail of hundreds of thousands around the world, Dr. Sultan bitterly criticized the Muslim clerics, holy warriors and political leaders who she believes have distorted the teachings of Muhammad and the Koran for 14 centuries.

She said the world's Muslims, whom she compares unfavorably with the Jews, have descended into a vortex of self-pity and violence.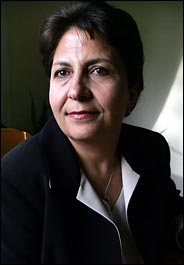 This woman is a true heroine. The kind that all right-thinking American liberals of either party should be able to stand together in unity to applaud.
As Dr. Sultan feels betrayed by the practice of her native religion, I must confess that I feel something similar for those of my fellow Americans who cannot get past their disapproval of the war for Iraq and against Islamofascism to
unambiguously and explicitly recognize
the importance of this woman's moment of Lutheran defiance.
Avail yourself of this story, as well as the links to be found at
All Things Beautiful
, where this story, according to Tom Maguire, really took off in the blogosphere.
(Accompanying photo by J. Emilio Flores for the
New York Times
. Thanks also to Tom Maguire.)