Mildly Surprised, Basically Pleased
Now Playing:
salma hayek is Goddess
I was pretty surprised to see
Crash
win Best Picture. A very cute lady I know at work loaned me a copy of it and I watched it a couple of times and I really liked it ---but Best Picture? I don't know about that.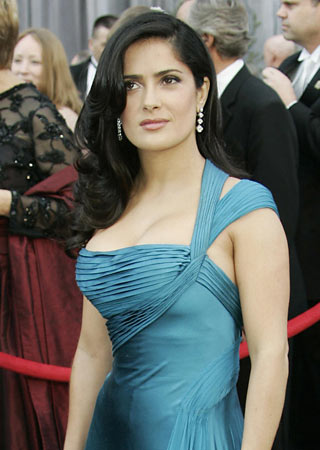 Lots of deserving winners tonight, though. That Hoffman cat and the incredibly beautiful Reese Witherspoon. The penguin movie won Best Documentary, which I was pleased to see.
Oh, and Jon Stewart did a really good job, although I'm sure all the squares out there will pan him. But how about those parody ads? They were fantastic.
Less said about that hip hop number the better. "It's Hard Out Here for a Pimp"? Whatever. It's not because I'm a tin-eared racist who can't get into pop culture; it's because that song is a suck-ass piece of crap. Period. Put something else up from that same genre and I might like it. Maybe even enough to say it was the Best Song. But
that
song? No. I don't have to like it to be a good person and I
won't
like it just to appear tolerant.
I'll tell you what, though. That Salma Hayek is just perfection. Good God!
(Thanks to E! for the pic. I'll take it down if you want me to, but I really don't wanna, so deal.)