Damn the Iconoclasts
The
destruction
of the Mahdi's tomb in Samarra on Wednesday disgusts me greatly.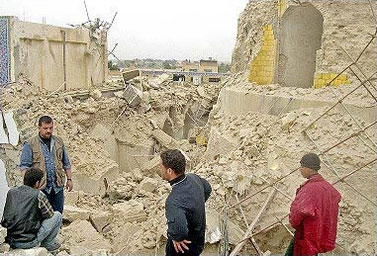 I do not want to see Islam destroyed ---contrary to my Catoesque demand that
Islama delenda est
--- but I do want to see it changed into something else. Really only destroyed, that is,
by
change.
The schism between the Shia and Sunnis is certainly deeper than anything going on in Christianity today. One might have hoped that the supposed brotherhood and universality of Islam would have made such an act of vandalism
verboten
, but it appears not.
But if I say it was Sunnis who did this thing today, you surely know I hope it was
foreign
Sunnis. The salafist or wahhabist or whatever-the-fuckist kind that steal into Iraq every hour of the day and sow discord right along with the Shiite Iranian agents. So I hope they can pin this crime against Zarqawi and those of his ilk. You know: real and strong evidence showing them in
all
their psychopathic zeal.
If ever there was a time for Sistani to come forward in a very public way, this would be it. Come on, dude: this is a grave offense, isn't it? To blast the golden tiles from the Twelfth Imam's sacred dome? Surely that warrants an appearance!
Just be sure to remind them to not worship your pixilated image.