Interference Running
The
Gateway Pundit
brings
us the picture you see below, as well as the attached Reuters caption:
Coffins of Kurdish people killed during former Iraqi President Saddam Hussein's rule are seen during a ceremony at Arbil's airport, northern Iraq, October 17, 2005. The bodies of some 7,500 members of the Kurdish Barzani tribe, who were made captive and then executed were buried in mass graves at the border between Iraq and Saudi Arabia, were brought to Arbil on Monday for reburial.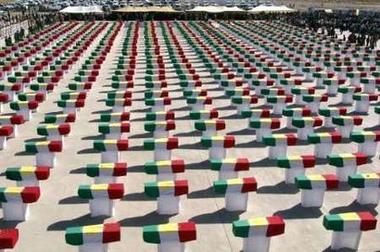 I wouldn't say that Bush the Elder and Baker and Cheney and Powell and Scowcroft and Schwarzkopf are the ones who murdered these Kurds, but they allowed to live the monster who did. Because there was no mandate from the United Nations to remove him from power. Because they didn't want a "power vacuum." Because "stability in the region" is code for letting tyrants and murderers oppress their own people because it's easier to obtain cheap oil that way.
Did
you
know about these
mass murders
from the summer of 1983? I didn't.
I
was in junior high. Back then,
all
I would have known of Iraqis was that they were not those awful Iranians. I knew to hate
them
because they had taken our fellow citizens hostages and humiliated us. But what did I know or care about what was happening next door in Iraq? Nothing. America didn't care about the Iraqi people, either,
or
about the man who was brutalizing them because at
least
Saddam Hussein was a thorn in the Ayatollah's side. Good for him. We weren't ones to interfere in their internal matters, anyhow.
Pretty soon, though, came the incident with the
USS Stark
and the invasion of Kuwait. We would soon know that you don't stay friends with the enemies of your enemies forever. You move to act with moral clarity. You punish those who murder their own citizens. You punish those who murder and plot to murder the leaders and former leaders of other nations.
History won't care to remember that Bush the Younger didn't genuflect before the French or Kofi Annan or that wretched dwarf Gerhard Schroeder. But History
will
record that this President went to Iraq and helped to correct the errors his father made. I believe that Dick Cheney knew that he, too, had a chance to do the right thing this time. And they are doing it, however ugly it is.