Much Bollywood
One of my very favorite rituals when I lived in Los Angeles was to tune in on late Saturday mornings to one of the local channels there and watch Bollywood music videos. A great substitute, if you're looking for one, for psychedelic entertainment: outrageous colors and sounds and notions.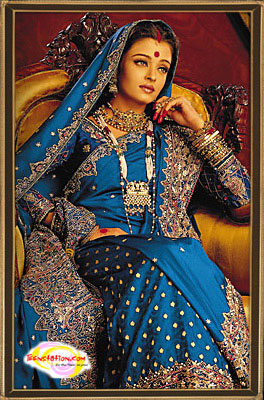 I think what I was watching were actually clips from the very prolific Indian movie scene; it seems like most of the popular movies from the Subcontinent are little more than a series of musical or dance numbers on the way to some sort of sappy romantic finish.
Anyway, I was watching
60 Minutes
tonight and Bob Simon was interviewing the one person whose face I could most
definitely
remember from my Saturday afternoon video-watching. Her name is Aishwarya Rai and she is absolutely stunning. They say she's the biggest thing in India ---and I have no doubt of it.
You know...Aishwarya's even prettier than SABINE EHRENFELD, THE HOT BABE FROM THE OVERSTOCK.COM ADS.
If that's possible.