Give 'em Enough Rope
I like what Mark Steyn has to
say
about the House's recent passage of a Constitutional Amendment that would prohibit the desecration of the American flag:
For my own part, I believe that, if someone wishes to burn a flag, he should be free to do so. In the same way, if Democrat senators want to make speeches comparing the U.S. military to Nazis and the Khmer Rouge, they should be free to do so. It's always useful to know what people really believe.
And that's the thing: if you hate this country so much that you would burn her most precious symbol, go ahead. Show us your ass.
Then again, I think the individual states should statutorily set the maximum penalty for assault on one of these flag-burners at the payment of a one dollar fine.
Steyn also reminds us of the Leftist martyr to the Car Swarm People, Rachel Corrie, and the notorious photograph of her burning an American flag. Corrie was accidentally crushed to death a few years ago in Gaza when she got in the way of an Israeli bulldozer.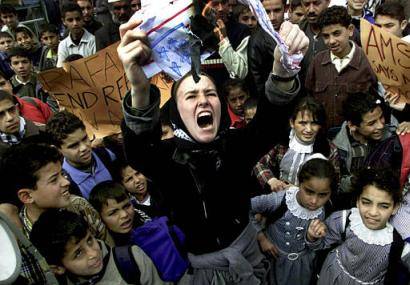 [...]her family and friends worked assiduously to promote the image of her as a youthful idealist passionately moved by despair and injustice. ''My Name Is Rachel Corrie,'' a play about her, was a huge hit in London. Well, OK, it wasn't so much a play as a piece of sentimental agitprop so in thrall to its subject's golden innocence that the picture of Rachel on the cover of the Playbill shows her playing in the backyard, age 7 or so, wind in her hair, in a cute, pink T-shirt.

There's another photograph of Rachel Corrie: at a Palestinian protest, headscarved, her face contorted with hate and rage, torching the Stars and Stripes. Which is the real Rachel Corrie? The "schoolgirl idealist" caught up in the cycle of violence? Or the grown woman burning the flag of her own country? Well, that's your call. But because that second photograph exists, we at least have a choice.

Have you seen that Rachel Corrie flag-burning photo? If you follow Charles Johnson's invaluable Little Green Footballs Web site and a few other Internet outposts, you will have. But you'll look for it in vain in the innumerable cooing profiles of the "passionate activist" that have appeared in the world's newspapers.
We don't need to ban flag-burning. We just need to give these people enough rope.