Abuse of Authority
Now Playing: the scene from The Crying Game when the chick turns out to be a guy
My understanding is that, about six hours from now, the United States House of Representatives will meet and vote on the Terri Schiavo Relief Act. Some Democrats have objected to this unprecedented and unprincipled abuse of Federal authority ---and have succeeded in making this a roll-call vote, requiring a quorum.
I have no idea what the fuck the Republican leadership thinks it's doing. That includes the President of the United States. This is easily one of the stupidest legislative actions of my lifetime.
That's because this bill represents the arrogance of usurpation. The United States Congress, controlled by a Republican majority in both houses, has taken it upon itself to countermand the decisions of the Florida state judicial system for the purpose of interfering in the medical treatment of
a single individual
---a woman who suffered irreversible brain damage 15 years ago when she was in her mid-20s.
Why
is this happening? Why is the Congress now opening itself up to what will become,
regardless
of what Congressmen like Dave Weldon say, a whole torrent of requests from thousands upon thousands of citizens for the Federal government to intervene in
their
lives, too? This is an unmitigated disaster, brought on by the rankest kind of emotionalism.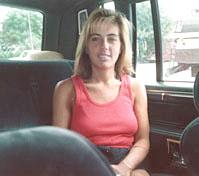 The greater problem, though, is that if the Federal government acts to interfere in the life of an individual
by request
, what is to keep the government from ultimately choosing to interfere in the life of an individual
against
his or her will? Isn't that the greatest of all taboos to those who swear by limited government? Indeed, what else is the drafting and passing of legislation aimed at a single person but the very essence of the abuse of the State? What could better symbolize the defeat of the notion of the individual's supremacy than this act?
The Republican leadership has badly miscalculated the tolerance of the public on this. The evangelical Christian movements and others who support this have taken a very dangerous turn in their relationship with the rest of us. They have shown us that they have more influence with the GOP leadership than they should. And they have exposed themselves as hypocrites who really
do
believe that the Government belongs in our private lives ---from conception to the grave.
If you can, stay up tonight and watch this trainwreck. The House is going to meet right after midnight and do something that they will regret nine ways to Sunday.
(And thanks to the commenter at
Eschaton
from whom I swiped this picture of a beautiful young Terri Schiavo. Look at her face.
There
is a woman who was living a life. She was free to ride and laugh and love. What has become of her? She must be in hell. And we're supposed to respect those who would abuse their own authority to prolong her vegetative state? Shameful.)