The Nine Lies of Giuliana Sgrena
Now Playing: "Mr. Skin" by Spirit
1.
Sgrena claimed that the car she was riding in during [her attempted assassination] was attacked by American
tanks
.
That
is a lie.
"We were on our way to the airport when the tanks started to strike against us[...]"
2.
Sgrena
claimed
that the American troops fired "300 or 400" rounds at her car.
That
is a lie.
Sgrena told colleagues the vehicle was not travelling fast and had already passed several checkpoints on its way to the airport. The Americans shone a flashlight at the car and then fired between 300 and 400 bullets at [sic] if from an armoured vehicle.
3.
Sgrena
told
the BBC that
I can't say it was deliberate because we can't say if there was a lack of information. But also a lack of information in this case is [their] responsibility because you are in a war field and you have the responsibility to pass immediately any information.
However
, Sgrena told Sky Italia TV that
"Everyone knows that the Americans do not like negotiations to free hostages, and because of this I don't see why I should exclude the possibility of me having been the target."
4.
Sgrena
told
her boyfriend Pier Scolari that the Americans had fired so many rounds at her car that she was able to grab up whole
handfuls of bullets
:
Suddenly as they were talking to each other without any signal a flashlight was switched on and three or four hundred bullets were shot towards the car. Giuliana told me she collected handfuls of bullets on the seats.
She said the
same thing to La Repubblica
:
The car was pock-marked with bullet holes. It's not important how many shots were fired. I know that they are also saying this: that if it really had been a rain of bullets nobody would be here to tell about it and, instead, both I and the major who drove the car are still alive. I can tell you that I found handfuls of bullets on the back seat and a dead man on my body. All of this in a zone close to the airport, supercontrolled by the Amercians.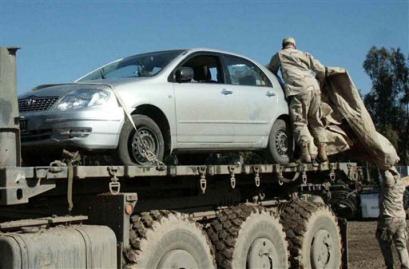 Really? Take a look at the picture of her car. Do you
really
believe that our troops fired hundreds of rounds into it? She's a fucking liar.
5.
Sgrena claimed that her driver was motoring along at a normal rate of speed, but that's not what the US military
says
:
[...]according to the senior U.S. military official, the car was traveling at speeds of more than 100 mph. The driver almost lost control several times before the shooting as the car hydroplaned through large puddles, the official told ABC News. The car had not gone through any previous checkpoints, the source added.
Interestingly enough, Sgrena
confirms
the US military's account of how the car was handling that night:
"The car kept on the road, going under an underpass full of puddles and almost losing control to avoid them. We all incredibly laughed. It was liberating. Losing control of the car in a street full of water in Baghdad and maybe wind up in a bad car accident after all I had been through would really be a tale I would not be able to tell."
Oh, I doubt that
any
thing would keep Sgrena from telling tales. After all, people driving through water don't lose control of their car if they're going at a safe speed. What do
you
do when you notice that you're hydroplaning?
You slow down.
6.
Sgrena
said
that, when they started being fired upon:
"The driver started yelling that we were Italians. 'We are Italians, we are Italians.' Nicola Calipari threw himself on me to protect me and immediately, I repeat, immediately I heard his last breath as he was dying on me.
Think about that for a moment. With all that gunfire and commotion, what does the driver think he's going to accomplish by yelling out that they are Italians? Why isn't he already stopped? Why hasn't he already heeded the warning lights and shots? After all, the soldiers have been watching them "almost lose control" of their car "several times" over the course of maybe as much as 30 or 40 seconds. And since it's night time, that must mean that our boys
did
have an eye on them to be able to see the car behave erratically.
7.
Sgrena said that the American soldiers should have known that she was en route to the airport. But Italian general Mario Marioli says
otherwise
:
Mario Marioli, a deputy commander of the US-led coalition troops in Iraq, was quoted by the Italian newspaper La Repubblica as saying: "I asked Calipari if I should inform our American allies of the hostage-freeing operation, but his reply was that under no circumstances was the ally to be informed."
Moreover, Marioli
said he had twice been warned by Calipari not to disclose the operation to the Americans.

On the second occasion, with the hostage already free but the operation not yet complete, the general had asked whether he should warn the Americans that the Italians were driving to the airport with Sgrena.

"I was told no, although I warned that this might mean a quarter of an hour's wait at the checkpoint at the airport entrance," Marioli was quoted as saying.
At a minimum, Calipari was negligent. There he is in the middle of a very hostile environment where he
has
to know that American troops are deployed at checkpoints ---and he wants to try to pull off some caper without giving them advance warning? It's stupid.
8.
Roberto Castelli, the Italian Minister of Justice, certainly seems to
think
that Sgrena is a careless liar:
Italy?s Justice Minister Roberto Castelli rebuked the journalist last week declaring: "Giuliana Sgrena has created enormous problems for this government and has caused grief that would have better been avoided."
Castelli has
also
said:
"Sgrena, I think, should perhaps be more careful. She has said a load of nonsense, speaks somewhat carelessly and makes careless comments."
That's a pretty damning assessment, wouldn't you say?
9.
It's entirely possible that Sgrena's capture by Islamofascist criminals was itself
staged
. But what about her rescue? Did Calipari not inform the Americans of what was happening because he didn't want them to know that he had paid a
ransom
? Naturally, the Italian government
denies
that they
paid
as much as $10 million for her release. But why else would these savages have released her? They knew early on that she was a sympathizer, so why hold on to her unless there was a profit motive?
I should also point out that if Berlusconi is challenging the American view of the incident, it is because he is politically obligated to. He's hacked off at us because it obscures his own role in paying ransom. That's to be expected, frankly.
Posted by Toby Petzold at 8:56 PM CST |
Post Comment
|
Permalink
Updated: Thursday, 17 March 2005 9:27 PM CST