Asleep at the Switch
Now Playing:
LOL
Ha, ha! I had heard in passing that Supreme Court Justice Ruth Bader Ginsburg had
fallen asleep
during the arguments in the Texas House redistricting case, but did she really slump
that
far forward?!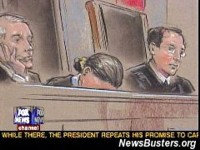 Ha, ha, ha! That's the hardest I've laughed in days.
Why didn't one of those dopes sitting beside her do something chivalrous and give her an elbow in the rib cage?
Hee-hee. Thanks to all concerned. And to those who really
weren't
all that concerned, no.