Making Their Peace with It
Okay, so Pope Benedict XVI
was
in the
Hitlerjungen
. And he was drafted into the Nazi Army.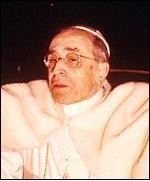 The Cardinals don't have a problem with that.
Neither does Pius XII.
For a lot of people these days, their love for the Pope is inversely proportional to their adherence to his authority. Was John Paul the Great, as he may very well be known to History, a person with whom most Catholics in America agree on issues of birth control and sex and gender? These men are loved because they are ill-understood. Such are ideals.
Posted by Toby Petzold at 10:42 PM CDT |
Post Comment
|
Permalink
Updated: Tuesday, 19 April 2005 10:44 PM CDT