I Will Eat My Hat If This Picture Is Real
Mood:
mischievious
Over at the anti-American blog
The Daily Kos
is
a post
by some moron in which the picture you see is cited as proof that John Bolton was one of the Republican lawyers who went to Florida to "steal" the 2000 Election for George W. Bush.
I am very tired right now and possibly punchy, but is this
a joke
? Is this picture
not
the most amateur PhotoShop job you've seen all day?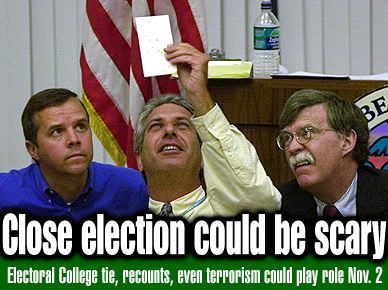 UPDATE:
This photo was originally taken from
this story
in The Daily Oakland Press, which may or may not be printed in Cyrillic characters. I mean, is
this
what passes for journalistic integrity these days?
UPDATE:
I was
absolutely wrong
about this photo. It is, in fact, legitimate. I apologize to anyone reading these words for asserting otherwise and for doing so in a somewhat chickenshit manner.
Posted by Toby Petzold at 2:23 AM CDT |
Post Comment
|
Permalink
Updated: Sunday, 24 April 2005 4:41 AM CDT