Cold, Blue Eyes
Mood:
don't ask
Now Playing: "Bells for Her" by Tori Amos
I've always felt that those who abuse History ---most especially those who would liken what my country does to what was done in Nazi Germany--- should live just long enough to experience the difference for themselves.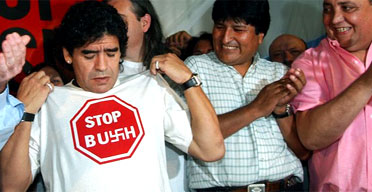 A lot of this abuse comes from ignorance, naturally, but let us remember what the great liberator of South America, Simon Bolivar, said of his own people in 1815:
As long as our countrymen do not acquire the abilities and political virtues that distinguish our brothers of the north, wholly popular systems, far from working to our advantage, will, I greatly fear, bring about our downfall.
I think Bolivar realized nearly two centuries ago that the Latin American people have a great deal to learn from their political betters. It isn't enough to simultaneously depend upon and piss upon the state. It isn't enough to smash out the windows of a Burger King in Buenos Aires to protest a war you have no part in. These stupid peasants are going to have to mature as a political culture before anyone's going to pay attention to them.
I hear that Hugo Chavez tells his people all the time that Uncle Sam is just itching to invade. Right. We'll just wait out his sorry Marxist ass like we've done all the others. But, for now, let these impotent protesters make a mess of their own cities. It'll give the trash collectors something to do next week.