Chance Phelps
Now Playing: "Moonshadow" by Cat Stevens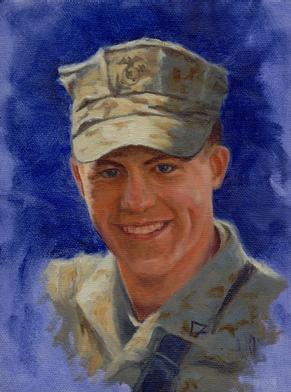 I was quite moved earlier today by
a story
on the
CBS Evening News
about an ongoing project to honor those brave men and women whom we've lost in the War for Iraq. On display at Arlington National Cemetery is a giant array of painted portraits of these heroes entitled
"Faces of the Fallen"
.
And one of those faces is that of a young Marine named Chance Phelps, whom I
learned about
last year through
Blackfive.net
(
a very fine milblog
that y'all should be reading).
Chance died defending democracy and his country last year in Iraq.
"Chance was an artillery cannoneer and his unit was acting as provisional military police outside of Baghdad. Chance had volunteered to man a .50 caliber machine gun in the turret of the leading vehicle in a convoy. The convoy came under intense fire but Chance stayed true to his post and returned fire with the big gun, covering the rest of the convoy, until he was fatally wounded."
The artist who painted this handsome portrait of Chance is his daddy, John Phelps.
Christ keep you all.