McJive-Asses
I stumbled across
this very funny blog entry
about stupid crackity-ass crackers trying to represent:
Nothing is better than when a giant company makes an attempt to be cool with their marketing, only to do something that is completely moronic causing the very audience it is chasing to mock them.

[...]

[W]hen I headed over to Page2 on ESPN.com[,] I instantly was hit with a great McDonalds ad that can be seen below. Although I firmly believe that McDonalds is not advocating hot man on sandwich action, it is quite obvious that they did not do their homework on urban slang. If they had, it is likely that they would have realized "I'd Hit It" is not exactly the catch phrase to use when selling fast food.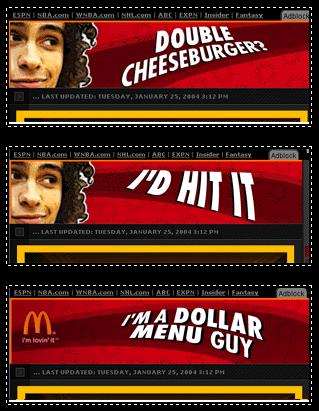 Ha, ha. I still don't know how I found this guy, but he's pretty funny.