Skulduggery
Over at the
Deep Blade Journal
is the
picture
you see here. It's in a brochure from the US Department of Defense that's being distributed in Afghanistan.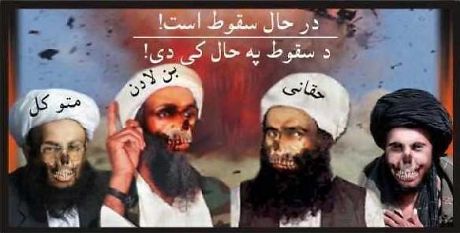 Lots
of punk rock points for this.
Deep Blade goes on to say:
In the wake of the terrible London bombing incidents, there has been a raft of official squirms from Tony Blair and US officials against the notion that insistent war policies pursued by the US and UK are one root cause of backlash terrorism. Use of an effective public relations phrase -- "stop making excuses" for the animals who commit terrorism -- is helping prevent principled public discourse on the extreme violence that emanates from the US-run Terror War itself.
I have no idea what this means. Do you?
It sounds like the usual Leftist tilt against the natural human response to seeing innocent people on their way to work
shredded to bits
by subhuman murderers with bombs. And it's the rhetoric of righteous anger that's preventing us from solving the problem of Islamofascist terrorism? No way, friend.
You don't debate with murderers. You don't reason or negotiate with them.
You exterminate them.