Shitting on Katie Couric's Perky Little Head
I am not seeing
nearly
enough about the pigeons who shat on Katie Couric's head while she was doing a live spot from Milan yesterday morning. Drudge had a piece on it and a few others have picked up on it, but
I WANT VIDEO, MAN!!!
If anyone reading this can hip me to a downloadable video clip of Katie Couric, I would really appreciate it.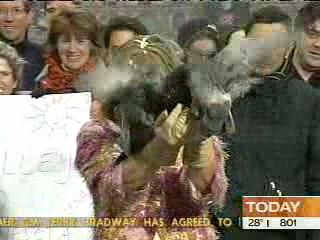 My plan is to purchase several big-screen plasma TVs and install them throughout my house so that no matter what room I am in, I can always look up to see
an unending loop of Katie Couric getting shat on by pigeons
.
Ha, ha, ha...