Johnson Grew His Hair Out
Now Playing: "Happiness Is a Warm Gun" by the Beatles
One of my pet theories of History ---or, perhaps it's only a casual suspicion--- is that the victor adopts something of the vanquished. Maybe a lot of things. But he ---Uncle Sam, let's say--- always embraces some part of his enemies, like the extremist Muslims who are making the world hell for millions. We're going to take a few souvenirs and display them on our mantle because there isn't much left of Islam that I would want to see survive too much further into the future.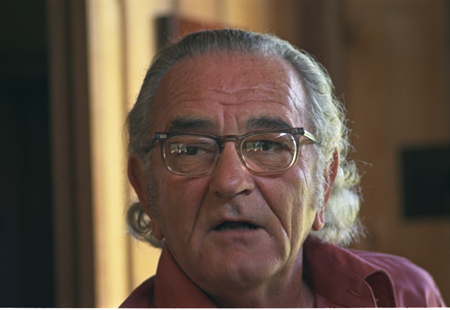 Therefore, I say that when Mo finally takes captive his fierce conqueror that we should all just ditch the necktie. Just be done with the stupid thing. Same goes for bowties, ascots, and bolos. These sartorial annoyances are just
affectatious
relics of the bourgeois conceit of having a clean shirt under that dirty and removable
bib
. Yep. You heard it here first, jackson: that fucking tie you've got wrapped around your neck with the thirteen loops started off in life some centuries ago as a bib on some Tuscan banker who didn't want to look like he couldn't afford to screw you on some business deal without the stains all down his chest.
It has run its course.
You know, some of those Muslim politicians dress pretty damned nattily ---and
they
don't need a stupid necktie. Hamid Karzai? You kidding me? Get the hell
out
of here. That guy is straight pimpin'.
I don't mean to be Amish about this, but come
on.
You can
forget
about neckties.