Betrayal of One's Genius for the Sake of a Delusion
The recent deportation of the Muslim once known as Cat Stevens and his vow to fight for re-entry in the courts is pretty sad. I don't yet know why he was turned back at our borders, and he claims he doesn't, either. I read somewhere that he had visited the States back in May, but maybe something has happened since then. Maybe he wrote one check too many to Hamas. I don't know.
But the man has been a huge disappointment to me as a lover of his music and as someone who is hostile to Islam. Cat Stevens was a musical genius, both as a songwriter and a vocalist. I have been singing his songs since I was a little boy. His 1970 album
Tea for the Tillerman
is one of the greatest masterpieces I know of; it is a work of art that has made my life better. Thus, I cannot respect what he has done to himself. Any religion that requires someone like Stevens to pull a Prospero and break his staff and drown his book is a regressive religion. He killed his music for
whom?
The God of Submission? The Lord of Enslavement and Murder?
I can only shake my head.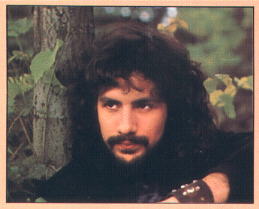 Monsoor Ijaz is shaking his own head over this case for another reason, and maybe he should.
Writing
in today's
Christian Science Monitor
, Ijaz declares:
For Muslims like me who have worked tirelessly to bring moderate voices forward as our religion is seized by extremists from within and put under siege by Islam's detractors from without, the Yusuf Islam episode is mostly counterproductive because it not only increases the rage in rational segments of Muslim society, it violates the fundamental principles by which America holds itself out as a beacon of freedom and liberty to the rest of the world.
The only problem with all that is that the "rational segments of Muslim society" are so cowed and, evidently, so timid to speak out against Islamofascist violence, that their contributions to the political climate are negligible and, frankly, dismissible. Are we to believe that the former Cat Stevens is a part of that "rational segment"? It may be unfair, but I reject that. If the man were a moderate Muslim, he wouldn't continue to stand by the annihilation of his own genius like some sort of goddamned eunuch or spiritual invalid. The longer boats came and won him over ---and I think it sucks.
Posted by Toby Petzold at 7:30 PM CDT |
Post Comment
|
Permalink
Updated: Friday, 24 September 2004 7:32 PM CDT