Stop It Or I'll Tell Dad!
The paper tigers of Europe and the IAEA are sharpening their claws and pencils for some more of that productive diplomacy with Iran. As Reuters
reports
:
Senior diplomats from France, Britain and Germany will meet top Iranian officials in Vienna on Thursday to offer Tehran a final chance to halt uranium enrichment plans or face possible U.N. sanctions.

"What will be sought Thursday will be discussions about Iran's compliance -- not with any conditions laid down by the three of us but by the (International Atomic Energy Agency) board of governors," said British Foreign Secretary Jack Straw.
Why do these people think Iran is going to cooperate? Iran's government is a psychoto-Islamic theocracy that hates Jews, Americans, and all the other little satans. To get a nuke is high on their agenda because they see us at their doorstep and know that, if we don't act to stop them, the Israelis will.
But, while you consider that, enjoy this observation of Uncle Sam's role in this drama later on in the Reuters piece: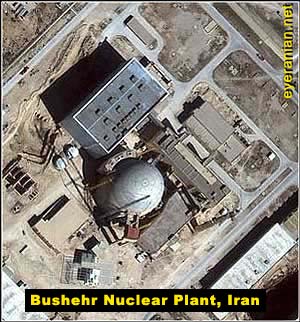 The United States has accused Iran of having a secret nuclear weapons program and has threatened to press for U.N. sanctions. Tehran says its nuclear efforts are only for power generation.
Very interesting. See how that works? The Europeans are negotiating with the mullahs based on some charge that the Great Satan has leveled ---and not because they themselves can see that Iran is up to no good. That's very trusting of them, considering how wrong we were about the whole weapons of mass murder thing in Iraq.
Oh, but France and Germany were wrong about it, too. It's just that we and the British were the ones who went in and made sure. And we're sure. Right?
Don't trust. Verify.
(Image courtesy of Eyeranian.net)