For God's Sake, Please Don't Moan
I can never remember (honest!) which channel or what time Nigella Lawson's cooking program comes on, but I happened to stumble across it again this weekend (honest!) ---and I have to say I just can't take it anymore.
How can a woman eroticize the preparation of a shepherd's pie? Good God Almighty ---
this
one can!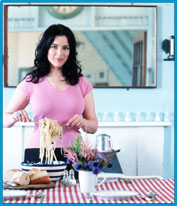 It just isn't right. Lawson is an audiovisual narcotic to poor saps like me, with the sexy English accent and the dark eyes and the hooters. And, then, of course, there are the hooters to consider. Oh, man. I feel like I need a cigarette after watching her make a mess of porridge.
And for God's sake, woman, please don't moan like that when you take a taste of the brownies you're whipping up.
It's just food.
Probably. Although I get to thinking that there's some sort of hidden message that's pinging my lizard brain.
Insanity.
Posted by Toby Petzold at 4:22 AM CST |
Post Comment
|
Permalink
Updated: Tuesday, 16 November 2004 4:30 AM CST