Here's a Picture of John H. Reagan
Here's a picture of the original Mr. Not-Without-Honor. Maybe I'll go find a picture of Sara Lee, too, but I think she is just a name. Earlier this year, we were told of the murder of a young woman at good old John H. Reagan High School. Her estranged boyfriend had a large knife and got her into a very desperate situation where he wound up murdering her there in what we used to call the "New Mall." These dumb kids. They say it was the first time a student had ever been murdered on a high school campus in the Austin Independent School District, but I just can't believe that. All of the local affiliates repeated that same factoid, but it just doesn't ring true. You're telling me that in a century or more of high school life in this town, that was the one and only time someone did such a thing? I just don't know about that.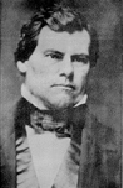 Anyhow, Reagan was the Postmaster General of the Confederate States of America and a Senator and lots of other things, besides. He came from the same part of the country and the same bolt of ethnic cloth that many of my ancestors did (Eastern Tennessee Irish) and made a home here in Texas. Interesting character. His descendants live in and around Austin, I believe. Seems like many years ago I read an obituary that mentioned a then-living John Henninger Reagan VI. Dem's good genes dere.